Reiki from Dublin to Tanzania
A recollection by Catherine O'Grady, copyright The Healing Pages 2010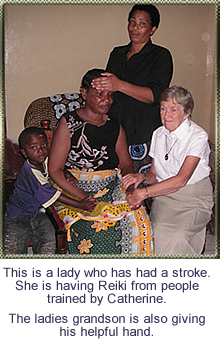 You have been in my thoughts and prayers over the last months as I try to settle back to Singida. I had been doing lots of Reiki before leaving Ireland and on the journey. So, all went so well.
I received a great welcome back in Arusha from our two communities and met Philip, Jeanette's son for coffee in the garden of one of the restaurants. I spent St. Patrick's day and night catching up on old friends.
We had dinner sitting out under the stars and met all the Irish contingent working there in Arusha. I met up with Elsie my teacher of Reiki 1 so she was thrilled to hear all my Reiki news form Ireland. We are to meet up next time I'm in Arusha to exchange some ideas about our programmes
I wanted to make use of my new training in Pastoral care and my certification as a chaplain and so I went to visit the sick especially the HIV/AIDS, in the government hospital and brought Holy communion to those who would ask for it. Many of the patients in the hospital are HIV+ so I have visited them weekly and they are so appreciative of this. I visited others in their homes especially the ones who are bedridden.
I wanted to insert the use of Reiki in our programme here and we are still in the process. I have trained three of our staff in the Advanced Reiki course and they are really thrilled. Another two staff were trained in Reiki 1 and more of our staff are eager to learn.
Two of us visit a lady who suffered a stroke about two years ago. Progress is slow but she loves to have us visit and use Reiki.
At present we work with twenty one volunteers for Home based care and they are asking for Reiki training. Each of these volunteers work with 18 – 25 clients with HIV. So soon Reiki will be powerful in these parts.
I had a surprise visit from a congregation of sisters who are new to the diocese.
One of these, Sr. Judith from Brazil calls herself a Natural Doctor and is really into all types of complimentary medicine. She is thrilled with the chance of learning Reiki. She only speaks Spanish and Swahili so we gesticulate a lot to get things across.
My biggest challenge is to translate the Reiki manuals into Ki Swahili – we have only got to page 2 of Reiki 1 as a lot of the concepts take time and a good dictionary.
I look forward to Jeanette's visit and hope to have many ready for Reiki training by September.