Why Reiki is Being Used in Hospitals
As a former nurse and a Reiki teacher for the last 20 years I am not surprised that Reiki has been embraced by so many hospitals and nursing homes internationally.
Reiki is proving benefitial in hospitals, nursing homes, emergency rooms, operating rooms, neonatal units; facilitating relaxation while also decreasing anxiety and pain.
When I taught Reiki in New York in the 1990's Reiki was already being used in prestigious hospitals such as the Columbian Presbyterian Medical Centre.
Other hospitals in the USA which have offered Reiki treatments include Portsmouth Regional Hospital, New Hampshire, The California Pacific Medical Center and the University of Michigan Hospital.
Hospitals are embracing Reiki and listening to what their patients request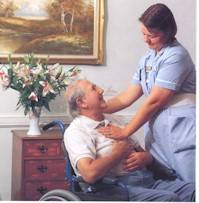 A survey conducted in 2007 indicated that in the previous year 1.2 million adults and 161,000 children in the U.S. received one or more energy healing sessions such as Reiki.
A 2008 USA Today article reported that in 2007 15% of U.S. hospitals (over 800) offered Reiki treatments as a regular part of patient services.
A research study at Hartford Hospital in Hartford, Connecticut indicated that Reiki improved patient sleep by 86 percent, reduced pain by 78 percent, reduced nausea by 80 percent, and reduced anxiety during pregnancy by 94 percent.
Edmonton's Cross Cancer Institute concluded that Reiki healing showed a highly significant reduction in pain in a pain management study including cancer.
Reiki Treatment Rooms in Hospitals
Libby Barnett and Maggie Chambers are Reiki masters who have given Reiki training to nursing and medical staff members in over a dozen New England hospitals. They teach Reiki as complementary care and the hospital staffs they have trained add Reiki therapy to the regular medical procedures they administer to their patients. Their book Reiki Energy Medicine outlines their experiences.
One of the things they both encourage is creating hospital "Reiki Rooms," staffed by volunteers, where patients as well as hospital staff can come to receive Reiki treatments. Bettina Peyton, M.D., one of the physicians Libby and Maggie have trained states: "Reiki's utter simplicity, coupled with its potentially powerful effects, compels us to acknowledge the concept of a universal healing energy."
My personal experience of using Reiki healing in Hospitals
It delights me that Reiki is now available in hospitals, nursing homes and cancer support centers in my native Ireland.
One of the first places I was involved in teaching Reiki on my return to Ireland in 1996 was at The St. Francis Private Hospital in Mullingar. At that time the hospital was owned and run by the the Franciscan Missionary sisters. I taught Reiki classes to nursing staff, patients and the general public at the hospital. All levels of Reiki training including Reiki 1, Reiki 2 , Advanced practitioner courses, and Reiki Master Courses were taught. On the heels of these Reiki classes, two of the Franciscan sisters offered Reiki treatments to patients and to members of the general public at the hospital.
As Reiki has become popular in Ireland, more medical facilities are expressing an interest in Reiki.
Each hospital has its own criteria on the training involved for Reiki volunteers.
Some medical establishments only allow trained nurses to administer Reiki.
It is imperative to get medical clearance before giving any patient a Reiki treatment.
For more information on Reiki courses and Reiki training or to find out more about Reiki energy visit www.thehealingpages.com