Reiki In Tanzania – By Jeannette Connelly
Copyright 2011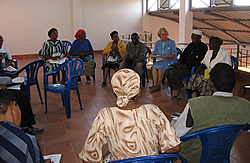 When Sr. Catherine O'Grady heard that I was going to Tanzania last September to visit our son in Arusha, she very kindly invited me to spend a week with her in Singida to participate with her in teaching Reiki to her staff and volunteers.
Catherine is founder & director of the Faraja Centre, under the auspices of her community the Medical Missionaries of Mary. This is a medical centre providing home based care for people with terminal HIV/AIDS. All this care is given free of charge.
On Friday 10th Sept. Catherine's driver, Peter, drove me & another Sister, Mboutiden, from Arusha to Singida – a 7 hour, 350 km journey of dust, & bone shaking ruts & holes.
The following day we all set out on a journey into the bush to the village of Ntuntu 70 km away – half of the journey on tar & half on dirt. Half way along the dirt road is the village of Makyungo where the M.M.M.'s run a bush hospital & where Catherine worked for a number of years before she set up the clinic in the town.
At Ntuntu we were welcomed by the parish priest who gave us tea & then we set up for our Reiki 2 class in one of the parish rooms. Nine people attended. Catherine had already done Reiki 1 with them in July. There were 3 Franciscan nuns, – not long in the area and are setting up a boarding school for girls so as they don't have long distances to travel each day,- 4 local women and 2 men.
One of the men was the local parish head man. Since doing the Reiki 1 in July they had all been getting together regularly to practise. The class was conducted in Swahili so Catherine answered questions & did revision of the Reiki 1 class.
Catherine made it easy for me to participate by translating for me what she was saying – then if I has any pearls of wisdom to impart, she passed that on to the class in Swahili. It all worked out quite well.
The idea that they could use Reiki & the symbols to give them some influence over their lives, like protecting their children, homes, crops, animals, etc. was very appealing to them.
Catherine has had feedback since and the class is still meeting regularly for practice.
On the Monday we arrived at the Faraja Centre where work starts at 8 a.m. Catherine had arranged for her volunteers to start Reiki 1 that day. There were 16 in the class, 12 women and 4 men. On a previous day Catherine had given them an introductory explanation of Reiki and all of them were keen to be attuned so as to use it in their work with their clients.
Again the class was in Swahili although some people understood English. We did the usual preliminaries of explanation and took questions. I then attuned each participant while Catherine went to another short meeting.
All of the volunteers very quickly took on the idea of channelling energy and were very keen to use it. They were as open as children to the idea. Then we demonstrated chair treatment positions, again adding explanations of each position. When they paired up for chair sessions each receiver was very impressed with the way the energy was perceived, some reporting pain being helped, others seeing colours.
All were delighted with their new found tool for their own healing and for their clients. A couple of people asked us to go with them during the week to visit their house clients to supervise their first treatments. Before the class broke up they were already organising themselves to get together to practise what they had learned. Catherine arranged to have another session the next week with them to make sure that all was understood and to answer questions.
The following day we did the first day of a Reiki 2 class with 5 of the staff who had done Reiki 1 a few months earlier. All said they had been using it. We really only had the morning to work with them as being staff they had work to do. One of the class, R…, had a very sore back & was in quite a bit of discomfort, so Catherine & I gave her extra attention.
That afternoon, Catherine took me on one of her visits to see a woman who had a stroke 18 months ago. She has been having Reiki treatment for a while, but is now refusing to continue with it and has become depressed according to her sister-in-law who looks after her. Catherine talked to her trying to raise her spirits and to get her interested in having Reiki again, but with little success. We keep sending her Reiki anyway.
On the Wednesday we arrived at the centre to find that R…, who had the back pain yesterday, was not at work as she had malaria. Apparently the trypanosome attacks the nerves supplying the covering of the bone and this causes pain. Catherine sent her some medicines.
Before we started the continuation of yesterday's Reiki 2 class, Catherine asked me to give her a short treatment to help clarify her mind about some staffing problems that has arisen. Those few minutes did us both good.
We started the class, minus R…, & they all said they had done Reiki last night. I did another attunement and then continued with explanation of use of the symbols. All found the use of the symbols interesting for helping both themselves and others.
As the main work of the Faraja Centre is working with HIV+ people, we impressed upon members of all the classes we held just now beneficial Reiki is/would be for HIV+ people as it helps to raise immunity levels.
Later we did a short introductory Reiki talk for 5 more of the staff who were free or could get someone to cover for them. This talk only lasted for an hour, but it gave them an idea about Reiki & something to think about. The intention was to continue with a Reiki class the following morning & to do the attunements then.
Catherine & I went to visit R…. She was sitting up as she had young children to keep an eye on, but she was burning up. We did distance healing while we were talking as the room filled with people as soon as we arrived.
I didn't see R… again, but Catherine told me that she came back to work on Friday, quite surprised that she had got over the malaria so quickly. She was quite convinced that it was because she was using Reiki and that we had been sending her Reiki. Catherine did the Reiki 2 class with her that she had missed.
During the day R… got a phone call from her husband telling her that he was going to sell a piece of land they owned beside her house, which of course she did not agree to as it was the only place her children could play safely. So, she told him to hold off until she got home.
She told Catherine afterwards that she used Reiki on the situation all the way home, using the symbols she had just learned. Instead of giving in to her husband wishes as she would normally, she argued her point & he agreed not to sell the land! So she is very impressed with this new support she has in her life.
On Thursday we continued the Reiki 1 class started the previous day. During the morning the Centre's receptionist, who had been in the Reiki 2 class on Tuesday, came to Catherine to say she needed to go home as she had malaria symptoms starting. She had already been given drugs by the doctor, so Catherine suggested to her that we would give her a short Reiki healing session on the table, to which she agreed. Afterwards she was taken home & again like R… had a shorter period of infection than usual.
That afternoon one of the volunteers, S…, asked us to go with her while she was visiting a couple of her clients, as she wanted Catherine's advice about them. I have never seen a poorer abode than the first home we visited, where 65 year old Agnes lives being looked after by her elderly mother – a square mud house of 1 room about 2 x 2 metres with a tin roof.
We found Agnes lying on a slatted bed on top of a plastic sheet with no mattress, and flies all around her as she was incontinent. Agnes had been living in Moshi with her sons until 4 months before, when she was diagnosed not only with TB but with advanced Aids.
Aids is considered to be such a disgrace in a family that her sons literally put her out & brought her back to Singida to be looked after by her mother. She is a feisty old lady, but she doesn't need at her age to be coping with an invalid daughter. She gets little or no help from her other daughter who lives in the neighbourhood, although that day she was off getting water for her.
Catherine asked the old lady if the daughter did the washing of the wet bed clothes. She said no that she wouldn't do it, but she would if Catherine told her to. So, when the daughter arrived back with the water on her head, Catherine wasn't behind the door in telling her to help out with looking after her sister!
We got Agnes out of bed and sat her on a stool and the three of us gave her about a 20 minute session of reiki. She began to talk more strongly and was able to be helped to sit on a stool outside in the air, while S… changed her bed – the mattress was kept rolled up in the corner because she was incontinent!
Her mother was given some money to buy some nourishing food as she didn't have any money left. Afterwards Catherine organised for her to have a commode in the hope that she could get out of bed in time not to have wet bedclothes. Both she and her mother were very gracious people, and they were appreciative of our visit.
We then drove to another area to visit a woman called Rehema – a young woman, probably in her late 30's, with HIV. Her house was much better. It was a one roomed house, about 3 x 3 metres, in a family courtyard, but was plastered & painted and very neat & clean inside. Catherine & S…. talked with her & then we gave her a session of Reiki that she was very pleased to receive.
This was my last involvement of the week with Catherine's work in Singida. It was a wonderful experience for me to see the work done by the Faraja Centre. It is a great credit to Catherine's vision in setting it up and persevering in building it up over the last 5 years.
At the moment the Centre offers initial HIV testing & follow up care, and the home visiting of advanced cases. The follow up care entails the HIV+ people on treatment, coming regularly to be checked up & to get drugs for opportunistic infections. The drugs provided by the Centre are paid for by two n.g.o.'s, Tunajali (the Swahili for We Care) & by USAID.
The local hospital does the definite testing for HIV & give out the initial anti-retroviral drugs, but it is Catherine's aim to be able to do that work at the Centre in the not too distant future.
The home care team help with bathing, shopping, preparing food, or just sitting talking to the client, as many are shunned by the community because of their condition. The Faraja Centre also makes sure that those who cannot afford a good diet have some money to buy food regularly.
The Centre will also help pay for the education of young people who show promise and cannot afford fees. People who do well in Form 6 exams may be offered places in 3rd level education, but as all education has to be paid for, Faraja Centre will help them.
All this work takes a lot of funding & it is one of Catherine's greatest concerns to secure enough funding to cover all the projects set up at the moment & for what she envisages for the future.
It would be wonderful if everyone who reads this account could send loving energy to Catherine and the Faraja Centre work – all for the highest good.