Research into Reiki And Multiple Sclerosis
Originally from www.reikiresearchfoundation.org – The Reiki Research Foundation
Given to The Healing Pages by kind permission
MS Studies
There are 85,000 Multiple Sclerosis patients in the UK. It is believed to be an auto immune disease destroying the protective myelin sheath around the nerves. This results in some or all of the following symptoms: – Lethargy, depression, cognitive (memory) problems, motor problems, pain, fatigue, urine problems, bowel problems, and difficulty in walking. The only real treatment for this is Beta interferon. However this is extremely expensive (9,000 – 12,000) per patient per year, it is not available to all people with Multiple Sclerosis as it is believed to be less effective in some groups.
In 2002 it was decided that due to the wide range of symptoms involved in M.S. and the lack of freely available therapy that Reiki would be offered free of charge to 13 people who wished to be part of the case studies to investigate the effects of Reiki on a wide variety of symptoms. The Multiple Sclerosis Society of Medway, Sittingbourne and an open minded GP from Dartford referred 13 patients for us to treat. Following advice from Dr Chong Consultant Neurologist at Medway Hospital, Kent, certain measuring devices were used to ascertain the effects of Reiki on a weekly basis prior to each treatment session. At each weekly session a visual scale was given by the patient and recorded. (0 = no problems 10 = the most severe possible). Where able to, the patient was asked to walk 10 meters and this was timed. Each patient was seen for 1.5 hrs once a week for 12 weeks. At the beginning and end of each patients case study, the SF36 questionnaire was completed by the patient. This was used to evaluate the effects of the Reiki treatment.
Summary of Results of the 13 Case Studies
All patients improved in at least 3 of their measured parameters
The following are average percentage reductions.
90.2% Reduction of Lethargy
87% Reduction of Depression
78.7% Reduction of Cognitive Problems
75.3% Reduction of Motor Problems
73.5% Reduction of Pain
70.2% Reduction of Fatigue
69.1% Reduction of Urine Problems
62.8% Reduction of Bowel Problems
38% Reduction in Walking Time
An Example of the Results in the form of a Graph is as Follows
(9 patients suffered with depression hence 9 lines on the chart, 10 people suffered with pain, therefore there are 10 lines on the depression chart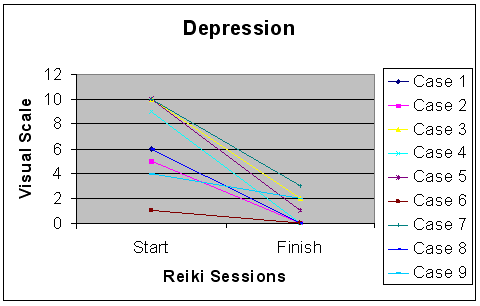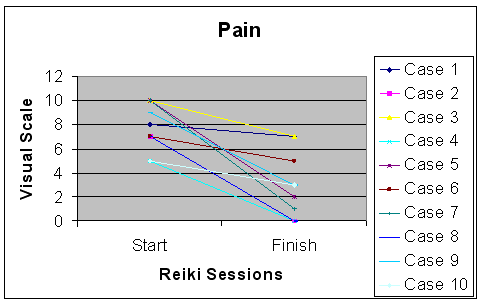 It can clearly be seen that all patients symptoms were reduced over the treatment period. (Weekly graphs are also available for those who are interested on request). They show that there is change in symptoms on a weekly basis but a significant reduction in symptoms after session 3, 7, 10 and 12. Some of those who have had this intensive 12 week Reiki treatment appear to have maintained the improvement in their symptoms, even 9 months after the conclusion of any treatment. Others have symptoms returning after 6 8 weeks. This indicates the need for a monthly top up program to be put in place to maintain the benefits gained. Sadly this has not been possible for many of those in the case studies due to financial constraints.
An Investigation into the Effects of Reiki On the Symptoms of M.E.
Introduction
The M.E. Society was contacted to ask if any of their members would be interested in taking part in our case studies. A letter was sent out to the members of Medway Maidstone and Sittingbourne. Although we were hoping for at least 12 people to take part we eventually had 11 people who were recruited. (One of whom dropped out after one session.) The Reiki Research Foundation made no charge for this work.
Method
The Reiki practitioner spoke to each potential recruit to explain what Reiki involves. They agreed that they would have a Reiki treatment once a week for up to 12 weeks. They signed a consent form where they declared any past medical history, stressful events, medical GP and Consultant if applicable and medication taken. It was explained that there was no guarantee as to whether Reiki would help their M.E. symptoms. Each client was treated for one hour each week.
Results
Those recruited varied in age from 35 years to 60 years old, and had a minimum of 6 treatment sessions and a maximum of 10 sessions. The reduced sessions were due to late recruitment and the Christmas Holiday Period.
Six sessions Cases 8 and 10
Seven sessions Cases 1, 3 and 9
Nine sessions Cases 2, 4, 5, and 7
Ten sessions Case 6 This lady eliminated all her symptoms.
Not all the symptoms measured were present in everybody, hence some graphs show more cases than others.
7 out of 10 cases had a reduction in Fatigue (70%)9 out of 10 had a reduction in pain (90%)4 out of 6 had a reduction in Urinary symptoms (66%)
3 out of 5 had a reduction in Bowel symptoms (60%)
5 out of 10 had a reduction in depression (50%)
6 out of 10 had reduction in Lethargy (60%)
8 out of 10 had a reduction in Motor Problems (80%)
3 out of 7 had a reduction in Symptoms in their arms (42%)
5 out of 7 had a reduction of Symptoms in their legs (71%)
Dizziness, Anger, Sleeplessness and Stomach Pains were reduced in those who complained of these symptoms.

An Example of the Results in the form of a Graph is as Follows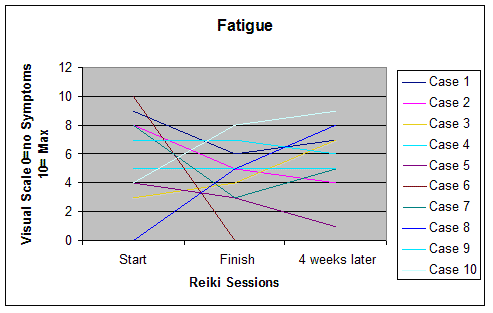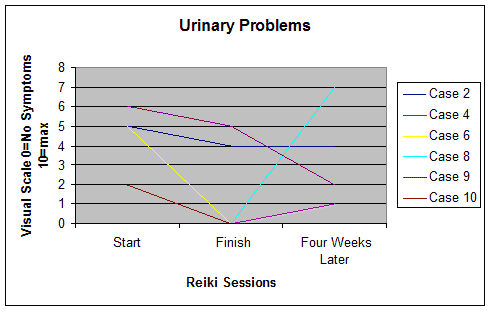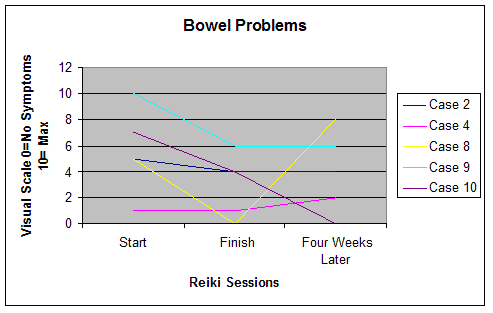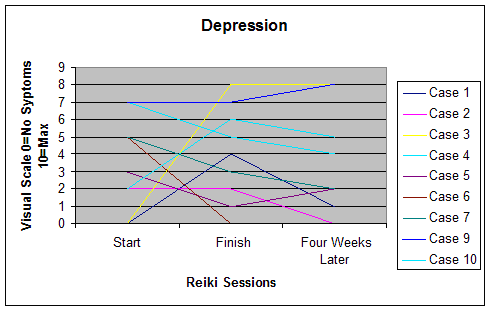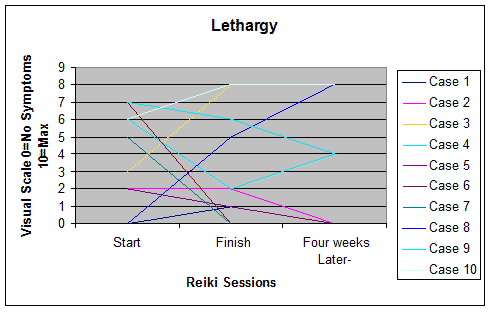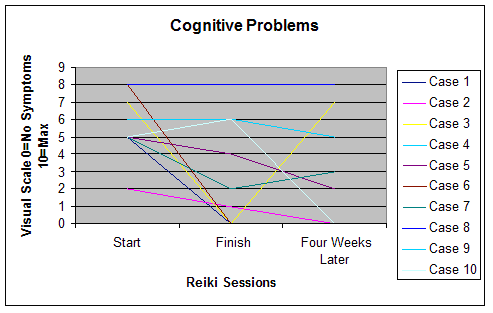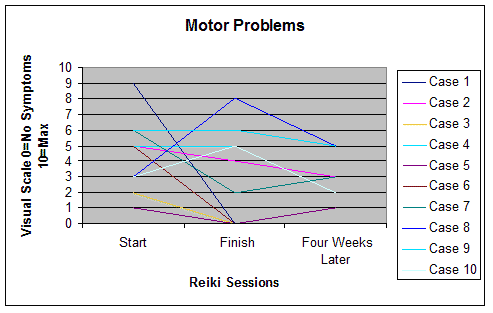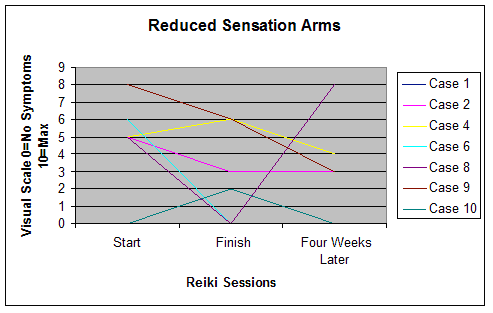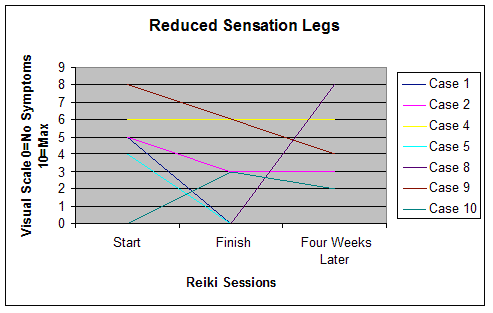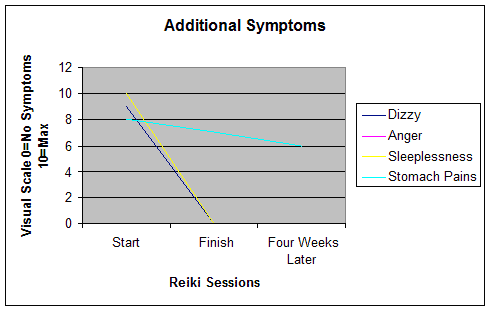 Conclusion
The results vary from person to person. Some peoples symptoms were reduced whilst other people did not seem to benefit from a reduction of symptoms. However in nearly every case the person being treated expressed that they had felt able to do more and had been able to deal with personal issues which previously they had been unable to deal with.

Unfortunately as previously, stated some people were recruited later than others and the Christmas break curtailed further treatments. As stress appears to increase symptoms and Reiki energy helps bring emotional issues to the surface so that they can be dealt with, this may be why some people did not appear to do so well. The symptom which appears to have been most successfully addressed was pain (90% of those in the case studies felt a reduction in pain) the least successful was reduced symptoms in the arms (42% of those in the case studies felt a reduction in symptoms in their arms).

Those who confronted their stressful life events had the greatest reduction in symptoms whilst those who did not do so well found this much more difficult. The lady who had no M.E. symptoms at the end of her 10 treatments had to confront many emotionally draining past life experiences and worked very hard to do so. Her results clearly show what can be achieved with a positive and determined attitude. She had and still has no M.E. symptoms remaining. She has taken a Reiki attunement and is now healing herself and plans to use her experiences in order to help others in a similar situation. She is a wonderful example of the results which can be achieved when such courage is displayed.

Discussion
As there were only 10 people in the case studies and there were not a constant number of sessions, it would be very difficult to establish conclusively the effects of Reiki on the symptoms of M.E. I have therefore asked each of those people who have taken part in the study to write their thoughts. These will be sent directly to Joe March (M.E. Kent and Sussex) so that there is no bias from the Reiki practitioners who took part.

The Reiki Research Foundation would like to take this opportunity of thanking all those people involved who took part in these case studies and to the M.E. society of Kent and Sussex for their help in recruiting.

If you would like more information on this case study or any other Reiki issue please contact the Reiki Research Foundation.
Other Research Available
Reiki To Manage Pain Martha Lucas, Karin Olson et al Cancer Prevention and Control 1997;1:108-13
Pain, Anxiety and Depression in Chronically Ill Patients and Reiki Healing Linda J. Dressen et al Subtle Energies 1998
Zimmerman 1990 Biomagnetic Fields from Reiki Practitioners Hands – Scientific and Medical Network Cortona Conference
Increase in Haemoglobin Values Otelia Bengssten MD Reiki Research Organisation
Reduction in Anxiety Levels Janet Quinn University of Carolina
Reduction in Post Operative Complications in Heart Patients Dr Mehmet Oz Consultant Cardiologist and Julie Motz RN.
Tuscan Medical Centre Arizona Use of Reiki on the Cancer Care Unit
Effects of Therapeutic Touch on Anxiety Level of Hospital Patients Patricia Heidt Nursing Research 1981
Anxiety in Hospital Patients and Theraputic Touch Janet Quinn Advances in Nursing Science 1984
Abdominal Hysterectomy and Relaxation Touch Concepcion Silva – Alternative Therapies in Health and Medicine, 1996
The Anticipatory Effects of Chemotherapy with Therapeutic Touch and Relaxation Kathleen Anne Sodergren University of Minesota 1993)
Post Operative Pain and Healing Touch Victoria E. Slater University of Tennessee College of Nursing, 1996)
Headache Pain and Therapeutic Touch Elizabeth Keller Nursing Research 1986
Arthritis Pain and Therapeutic Touch Susan D. Peck University of Minesota 1996
Osteoarthritis of the Knee and Therapeutic Touch Andrea Gordon et al Journal of Family Practice 1998
Cancer and Therapeutic Touch Marie Giasson et al Journal of Holistic Nursing 1998
Depression and Healing Touch Catherine S. Leb University of North Carolina 1996
Return to previous page